Protect your company from operational risks by selecting the best risk management software for your needs. Dive into everything you need to know about risk management and the best risk management tools and software available.
What is the Risk Management?
Risk management is the identification, assessment, and response to risks to an organization's capital and earnings. These risks are caused by a variety of factors, including financial uncertainty, technological issues, legal liabilities, strategic management errors, mishaps, and natural disasters.
Risk management examines the relationship between risks and the potential impact they may have on an organization's goals.
What is the Importance of Risk Management?
By acting proactively rather than reacting to situations as they arise, effective risk management helps to control future outcomes as much as possible. It helps to reduce both the likelihood of a risk occurring and its potential impact. The goal is not to eliminate all risks, but to make calculated risk decisions that preserve and add value to the enterprise. An organization can determine which risks are worth taking by implementing risk management techniques.
What exactly is a Risk Management Plan?
A successful risk management plan assists an organization in assessing the full range of risks that it faces. It is a written document that details an organization's risk management process, including all risk assessment, analysis, tolerance, and mitigation considerations. A risk management strategy should be linked to the organization's overall strategy.To connect them, risk management leaders must first define an organization's risk appetite.
Top 5 Risk Management Tools and Software 2022
1 nTask
If your risk management software is difficult to use, ntask will aggravate your ability to track and assess harmful risks rather than simplify the risk management process.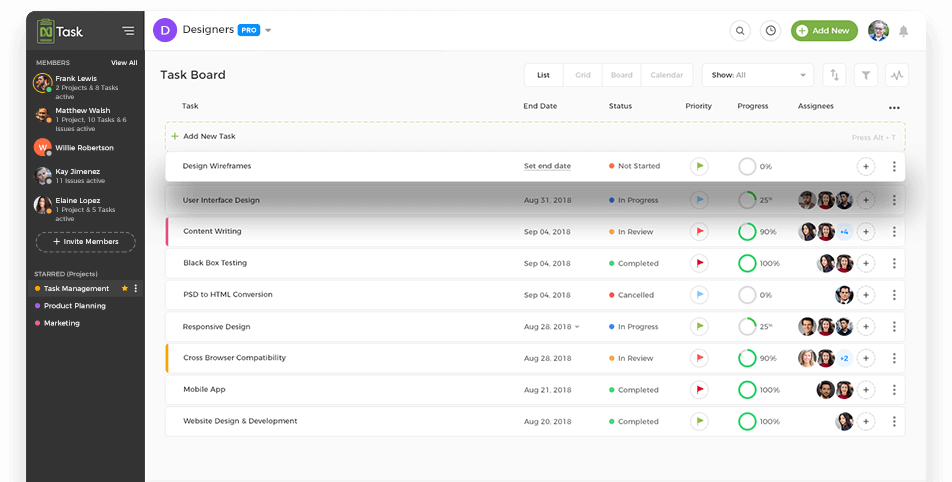 As a result, nTask is ranked first on our list. The prospect of having to deal with and resolve identified risks does not appear to be too daunting in nTask. And it can be attributed solely to the extremely friendly and pleasantly neutral tones of its risk management board.
nTask allows you to keep an eagle eye on risk updates while working on a task or conducting a meeting.
Advantages and features:
Effective Risk Reporting – nTask, designed specifically for Agile Teams, allows you to create a plethora of risks whenever the need arises. Each risk is assigned a Risk Owner who is responsible for developing solutions to the risk and monitoring its progress.
Simple visibility – Identifying risks is insufficient. You must be able to view and locate each risk whenever you need to without losing valuable time. Using the List view, you can quickly see an entire set of risks, where each risk is currently located, and who is in charge of handling them.
Determine Risk Impact – Risks of any kind, in any department, are both uncertain and predictable at times. To maintain project stability, it is critical that the best risk management software provides the benefit of predicting the likelihood of the risk and its severity. Choose one of three severity levels to indicate
2 Resolver
There's no telling when a risk will erupt and jeopardize your project's foundation, leaving you with nothing but regret.
Resolver promotes early risk identification planning during stages when project objectives and regulatory requirements are still being developed.
Resolver provides a comprehensive suite of consolidated products tailored to organizations of all sizes and industries.
For Global Security challenges, corporations such as Delta Airlines use Resolver's Enterprise Risk Management solution. Clients such as Farmer Mutual Hail chose Resolver's Internal Audit and Risk Compliance software for efficient risk reporting to their management team.
Advantages and Features:
Effective Assessment – Resolver Ballot enables a data-driven approach to risk assessment.
Reporting Flexibility and Customization – Visualize your security data, risk matrix summaries and trending threats in customizable reports and heat maps that can be exported into spreadsheets and presentations.
Real-time access and insight – A centralized dashboard allows for easy tracking of total risks assigned, resolved, and unresolved.
Incident Management – Establish links between risks associated with third-party external events.
3 TimeCamp
Sometimes the simplest vulnerabilities are the most harmful, silently eroding the project's integrity until it abruptly collapses, resulting in complete and utter project failure. Simple management tools, such as TimeCamp, are ideal for dealing with such seemingly innocuous risks.
Though TimeCamp is primarily a time tracking tool designed to help teams deliver on time, users can also conduct risk assessments using special built-in features for various aspects of their workflow.
Advantages and features:
Determine Financial Risk – Allows users to keep track of when their project budget is out of balance. In such cases, users can use simple and easy editing options to sort and control leaky expenses.
TimeCamp's main feature of time management enables teams to complete project and task completion on set deadlines with the help of due date options, instant alerts, inactivity tracking, Reduce Project Failure — With TimeCamp, project managers can track and monitor the likelihood of a project's completion.
Options such as the project's state and status enable teams to keep a close eye on any looming risks that may be lurking beneath the surface and preventing the project from meeting its deliverable deadline.
4 Integrum
Integrum is widely regarded as one of the best risk management software solutions available.
Integrum, the most configurable system on the market and a multiple award winner, helps companies accelerate their business by managing and reducing risks that arise at any stage of a project.Integrum's strongest suit is that it is specifically designed for an organization's health and safety management.
Advantages and features:
Governance, Risk, and Compliance – Integrum, which includes features such as incident, investigation, and document management, aims to assist businesses in identifying potential risks before, during, and after a project.
Business Optimization – Integrum takes great pride in being the market's most customizable software. You can use their intelligent built-in tools, such as SMARTForms, to generate comprehensive forms by extracting your data. A similar inbuilt tool responsible for designing workflows helps ensure that company work is on track and that no roadblocks are on the horizon.
5 Qualys
Every project has a different scope than the one before it and the one after it. Different projects create different vulnerabilities in the system.
Small and insignificant ones are frequently apprehended and dealt with quickly. The highly specialized ones require a mechanized host scanning system to avoid any sneaky loopholes that may later harm the entire project development.
Qualys is a cutting-edge tool that provides vulnerability scanning, malware detection, and remediation tracking.
Advantages and features:
security–Vulnerability Management, in conjunction with other Qualys tools such as Continuous Monitoring, gives teams a hacker's perspective of their business empire. This feature sends proactive alerts whenever there is a risk breach anywhere in the system. These alerts can be tailored and changed based on the user's preferences or circumstances.
Host Scanning – Qualys VM performs a thorough scan of the entire business perimeter, protecting all fronts of a company by identifying vulnerabilities and bringing them to the surface for remediation. The executive dashboard provides easy access to remediation details as well as the overall security posture of a project or company domain. Through the VM report generator, users can obtain role-based reports and documentation of identified or unresolved risks.